Getting around Calgary and where to stay
Read time: 7 mins
Calgary is the largest city in Canada's province of Alberta, located at the edge of the prairie where the Rockies foothills begin. Not only is it a gateway into the spectacular Rocky Mountains, but it offers numerous attractions and activities of its own. As the city covers a large swathe of land – nearly 319 square miles, larger than cities that have a much bigger population, in order to make the most of your time here, it's best to do a little planning ahead.
What's in this guide?
• Getting to Calgary from the UK & Ireland
• Getting from Calgary International Airport to Banff and the Canadian Rockies
• Rental car
• Taxis and Uber
• Public transportation: Bus and train
• Getting to Calgary's top attractions
• Finding Calgary's top restaurants and shopping venues
• Where to stay in Calgary
Getting to Calgary from the U.K. & Ireland
British Airways, WestJet, Air Transat and Air Canada all offer nonstop flights from London with a flying time of nine hours. While there are no nonstop flights from Dublin, Ireland, Aer Lingus, Delta, Air Transat, Air Canada, British Airways and KLM, among others, all offer various routes for getting you to Calgary. Flights land at Calgary International Airport, situated just 11 miles northeast of downtown Calgary. As with most large airports like this one, you'll have multiple options for getting there.
The easiest way to get from the airport to the city is to rent a car, with numerous car hire companies available onsite. That will also make it far easier to venture to popular destinations like Banff in the Colorado Rockies, although there are more options for that as well. Your next best bet is to take advantage of taxi or Uber service, though many downtown hotels offer complimentary shuttle buses which may take a bit longer but will save you quite a bit of cash. Bus transportation is available as well via Calgary Transit, with an estimated trip time of 35 to 45 minutes.
Getting from Calgary International Airport to Banff and the Canadian Rockies
If you have a rental car it will take you about 85 minutes to cover the roughly 79 miles from Calgary to Banff. The Banff Airporter can get you there in about two hours, offering an extensive schedule with shuttles leaving the airport as early at 5:00 a.m., and as late as 10:30 p.m. Greyhound Bus service is the least expensive option, with a trip time of about an hour and 40 minutes.
Ways to get around Calgary
Calgary is easy to get around, offering multiple options to get you to where you want ago when it's too far to walk.
Rental car
Driving in Calgary is typically a breeze, except during rush hour, when it's usually gridlocked due to the city's rapid growth in recent years. That means you may want to avoid the hours of 6:30 to 8:30 a.m. and about 3:30 to 6:30 p.m. if you don't want to encounter it.
Taxis and Uber
Taxis are the easiest way to get around without a car, though they're the most expensive option. Most services offer mobile and online booking apps, and accept cash, credit or debit cards. As mentioned, Uber is also offered here, with rides requested through its mobile app, typically priced lower than taxi service. Either option provides door-to-door service, making it convenient if you're travelling late at night or to areas that aren't covered by late-night bus service or the C-Train.
Public transportation: Bus and train
Calgary has a very good public transportation system that makes it easy to get to most destinations via the bus, train or a combination of both. The light rail transit system is called the C-Train which runs from 4 a.m. to 1 a.m. every day of the week, free in the downtown area along 7th Avenue between 10th Street SW and 3rd Street NW. As it's not as extensive as similar systems in many other cities, you may have to use bus service to complete your journey. The bus network is made up of over 100 routes, allowing people to get to places that aren't covered by the train. Most run at 15- to 30-minute intervals daily.
Getting to Calgary's top attractions
Calgary Tower
To make it easier to get around, get a perspective of the city from above by heading to the Calgary Tower. You'll be whisked up in a 62-second trip to the top, and at nearly 4,029 feet above sea level, you'll also get an incredible bird's-eye view of Calgary and beyond. Afterwards you can enjoy a drink and some appetisers at the revolving SKY 360 restaurant.
How to get there: Located at 101 9 Ave SW, Calgary Tower can be reached on foot, by car or the C-train. The tower is situated in the free fare zone and is served by the downtown C-train.
Winsport Olympic Park
Built for the 1988 Winter Games in Calgary, Winsport is the place to feed your need for big thrills. While it's fantastic in the winter, it's also a must during the warmer months of the year as a multi-sport facility. It hosts the only bike park in the province, with lift access to downhill trails that offer something for every skill level, a wheeled luge called the Skyline Luge that will take you down a heart-pounding track, miniature golf, a zipline that travels down from the ski jump tower, a climbing wall and spider-web climbing structure for the little ones, public skating, Eurobungy for the thrill of bungy jumping without actually free-falling, and much more.
How to get there: Winsport is situated in the southwest corner of Calgary near the city limits just south of the Trans-Canada Highway. If you don't have a car, there is a direct bus route, 408 Valley Ridge, from downtown.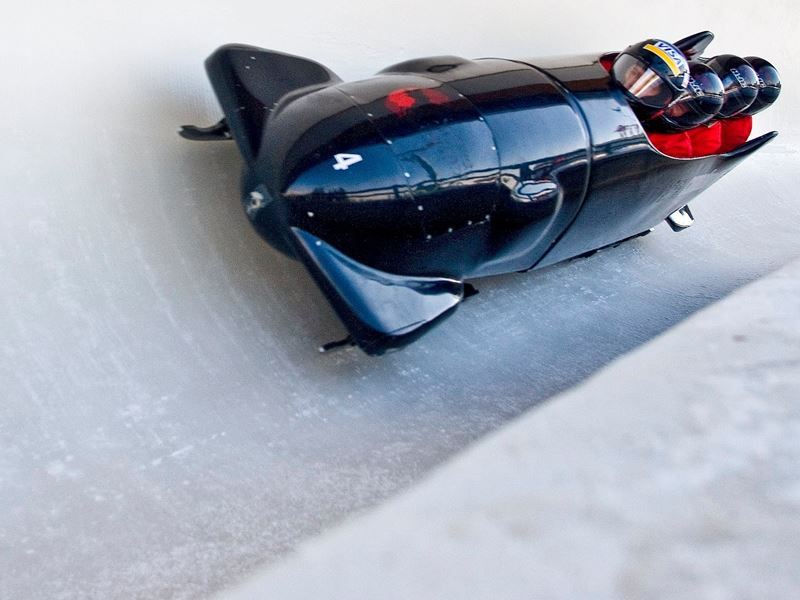 Fort Calgary Historic Park
To really get to know Calgary, find out about its early beginnings at Fort Calgary Historic Park. It holds the remains of the original mounted police stronghold, that up until the 1970s, was all buried underneath the growing city. Here you can step into the shoes of the western Mounties while exploring the fort's remains.
How to get there: Fort Calgary is just a 10-minute walk from downtown Calgary, situated at the confluence of the Elbow and Bow Rivers.
Scotiabank Saddledome
The Scotiabank Saddledome, named for its saddle shape, is best-known as the home of the National Hockey League Calgary Flames, the 1989 Stanley Cup champion, but it also hosts the Western Hockey League's Calgary Hitmen and the National Lacrosse League's Calgary Roughnecks. Catching a game is one of the best ways to enjoy an authentic Canadian experience, cheering on the home team with the local crowd. The Saddledome also hosts special events throughout the year, like rodeos and concerts, and, public tours of the arena are available during non-event days in June, July and August.
How to get there: The arena is located at the southeast end of downtown, easily accessed by the Calgary Light Rail Transit system, although parking is available at the adjacent Stampede Park.
Stampede Park
Stampede Park is made up of multiple venues that host a variety of events and concerts throughout the year, though it's arguably most popular for hosting the 10-day Calgary Stampede in July. Pack those cowboy and cowgirl boots or buy some while you're here and head to what's billed as the "Greatest Outdoor Show On Earth," to find out what the Wild West is all about. The event showcases cowboy culture and all things Wild West, including rodeos, chuckwagon races, concerts, First Nation Culture, a parade and more.
How to get there: Stampede Park can be found at the southeast end of downtown, adjacent to the Scotiabank Saddledome, also easily accessed by the Calgary Light Rail Transit system, with parking available onsite for those who plan to drive.
Heritage Park
The largest living history museum in all of Canada showcases over 200 exhibits across natural parklands, allowing visitors to experience life in the region from the 1860s through 1950. It includes an 1860s Fur Trading Fort and First Nations Encampment, a Pre-Railway settlement, and an early 1900s living historic village. Check out the authentic steam train, visit a blacksmith shop, see a working printing press and step inside old-fashioned ice cream parlor and bakery. At the Games of Amusement, you'll see carnival games that were popular around the turn-of-the-century, based on the booths at Winnipeg's River Park used around 1909.
How to get there: Heritage Park is located 20 minutes from downtown Calgary, with parking available on site. It can also be reached via public transportation by taking the shuttle bus from the Heritage Light Rail Transit Station.
Finding Calgary's top restaurants and shopping venues
Calgary boasts a thriving dining scene, one that goes well-beyond meat and potato dishes, though it's the largest beef producer in the nation, so you'll find plenty of that too. Sample some of the best offerings here:
• Anju – Located at 344 17th Ave. SW, five blocks west of the Scotiabank Saddledome, Anju features modern Korean cuisine, showcasing the traditional flavours of Korea mixed with a touch of Canadian influence, served in a dark, intimate space
• River Café – A staple on the dining scene for nearly two decades, River Café sits inside scenic Prince's Island Park, with meals focused around local ingredients in an ever-changing menu to ensure only the freshest items are used. One of the first in Calgary to embrace seasonal, local cuisine, it offers everything from smoked cuts of quality meat and oven-roasted fish to vegetarian options
• CHARCUT Roast House – Situated downtown next to Glenbow Museum, CHARCUT is all about meat with its name reflecting its urban rustic cuisine. CHAR refers to its custom-built char broiler, while CUT is associated with its vintage-style handcrafted charcuterie bar. Think everything from sausage burgers with cheese curds to pig-head mortadella and lighter bites like garden-fresh salads
• Oxbow – One of the city's newest dining hotspots, Oxbow is located at the beautiful Kensington Riverside Inn, just west of downtown along the Bow River. If you like watching your meals, including items like Eggplant Picatta and Smoke Alberta Bison Flank Steak, prepared, the intimate space boasts a fantastic view of the kitchen
Calgary's shopping scene has exploded in recent years, with lots of walkable shopping districts to explore, from chic fashion retailers to unique boutiques and everything in between. The downtown area features multiple shopping centres and thousands of individual businesses in a 120-block area.
• 17th Avenue – 17th Ave is Calgary's famous boutique clothing shopping destination, where you'll find everything from local, everyday goods to high-end brands. International Avenue is a diverse stretch of 17th Ave SE that lies between 26th and 61st streets, offering some outstanding cultural stores selling various foods and other services and retail items
• Kensington – This wonderful, walkable part of the city is just a few minutes from downtown, featuring lots of hip, trendy stores and cafes. Discover one-of-a-kind shoes, purses and dresses at Kismet Clothing and Jewelry, and treat yourself to the healing power of crystals at New Age Crystals and Books
• Inglewood – In the historic neighbourhood of Inglewood, Calgary's original main street, you'll find antique stores, design stores and local boutiques
• Malls and Major Shopping Centres – If you plan to experience all the malls and major shopping centres in Calgary, be sure to bring your comfortable walking shoes, the list includes: CF Chinook Centre, Southcetre Mall, CF Market Mall, CORE, CrossIron Mills and Suridge Mall
Where to stay in Calgary
As a thriving hub of international commerce, you'll find a wide range of accommodation options, including plenty of luxury options, with everything from historic classics to newer, sleek modern hotels.
• Fairmont Palliser – Located in the heart of the city just a block over from Stephen Avenue, this historic landmark hotel that was built in 1914 offers all the elegance of the period, including an impressive Renaissance Revival rotunda in the lobby, along with plenty of luxuriously modern amenities
• Delta Calgary Downtown – This modern high rise sits at the gateway to the Business District and is also close to the Cultural District, home to Stephen Avenue shopping, the convention centre and Stampede Park, and is often lauded for its superior hospitality
• Calgary Downtown Marriott – Set in the heart of downtown near the famous Calgary Tower and Stephen Avenue, the Calgary Downtown Marriott is a luxurious modern hotel with a long list of amenities that make it ideal for both leisure and business travellers
• Le Germain Hotel Calgary – One of the highest ranked hotels in the city, this boutique property just south of downtown near the Calgary Tower is renowned for its gracious hospitality and hosts the highly-acclaimed CHARCUT Roast House restaurant
Find your perfect holiday
Talk to our friendly team
01 6649910
Call us 9am-7pm Mon-Fri / 9am-5pm Sat-Sun