Experience WinSport, Canada Olympic Park during the summer
WinSport, the non-profit organisation that owns and operates Canada Olympic Park, is found to the west of Calgary, just off the Trans-Canada Highway and north of the community of Cougar Ridge. The facility was born out of the 1988 Winter Olympic Games, when Canada Olympic Park was the primary venue for the ski jumping, bobsleigh and luge events, and has since evolved into a diverse campus for year-round recreation and sporting excellence.
The original Olympic facilities have been maintained and various expansions have been completed over the years to accommodate both professional athletes and the general public. Activities on offer vary according to the seasons. During the winter, the park is a major hub for skiing and snowboarding, whilst in summer the venue offers a wide range of warm-weather sports, including mountain biking, ziplining, luging, bobsleighing and more.
Adrenaline junkies will find plenty to occupy their time, whilst activities such as mini golf offer more sedate alternatives for those looking to relax. Above all, WinSport is dedicated to celebrating sporting spirit and excellence amongst everyone, whether local Calgarians, Canadians or international visitors, complete novices, skilled professionals or dedicated sports nuts. This love for sport is in full evidence throughout, whether you're touring Canada's Sports Hall of Fame, catching a glimpse of world-class training facilities and even rubbing shoulders with some of the country's greatest athletes.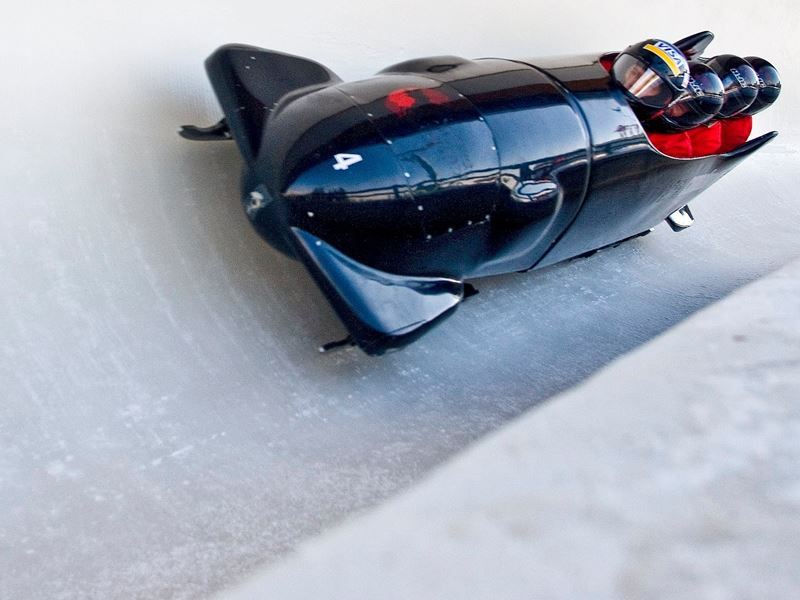 Mountain biking
Canada Olympic Park is home to the only mountain biking park in Alberta with lift-access trails. The high-speed chairlift is equipped with bike racks to ensure you have more time and energy to hit the awesome trails. There are 25km of top quality singletrack to explore, with something to suit every skill level. Get yourself started on the easy flowing green trails, or push yourself to new heights on the expert-only black runs. There's also an incredible Skills Park featuring dirt jumps, tables and a range of obstacles perfect for pulling and honing those stunts. You can bring your own bike and gear along or rent it out onsite. WinSport also offer a fantastic range of services and events with everything from group and private lessons (including introductory, downhill and cross-country options), to mountain biking clubs and hair-raising downhill competitions.
Zipline
From the lofty heights of the park's colossal ski jump, thrill seekers can whizz down North America's fastest zipline, reaching speeds of up to 140 km per hour, with a vertical drop of more than 100m. Practice the correct technique and build up your courage on the trainer line before heading up to the main attraction atop the ski jump tower. Before you fly off be sure to take in the staggering views from the highest vantage point in all of Calgary. Then strap on your harness, take a deep breath and prepare for adrenaline-pumping thrills as you zoom down the hill at incredible speeds.
Bobsleigh
Make the most of a rare chance to try this unique and exhilarating Olympic sport at the WinSport's legendary bobsleigh track. Though this is typically a winter sport, visitors can ride in a four-man bobsleigh (piloted by a professional driver) throughout the summer months. Hurtling down the slider track at speeds of well over 100 km/hr, navigating thrilling twists and turns, and feeling the force of 5 Gs, it's a mind-bending ride you won't forget in a hurry. The truly adventurous at heart can sign-up for the Adrenaline Combo which includes ziplining and the summer bobsleigh in one package, combining two of the park's not-to-be-missed signature experiences.
Skyline luge
One of Calgary's most exhilarating attractions, the summer-time (May-October) Skyline Luge is a must-do when visiting Canada Olympic Park. Invented and imported from New Zealand, it's one of only two in North America and rated as the longest luge in the world. Running parallel to the original Olympic luge track, the route spans 1,800 metres, encompassing numerous fun-filled twists, turns and bumps along the way. Seated in an individual wheeled carriage, gravity will transport you down the purpose-built track, whizzing past 50 bends and descending 100 metres from top to bottom. Easy-to-learn braking and steering controls provide you with full control over your ride. On your way down, don't forget to admire the spectacular views over Calgary and the surrounding area. The entire family can take part in this memorable experience, with children under the age of six riding tandem with an adult.
Hockey & skating
A major expansion project at Canada Olympic Park has been the opening of the Athletic and Ice Complex which includes four state-of-the-art indoor skating rinks, open year-round. Canadians are crazy about their hockey and as the home of Hockey Canada, there's no better place to get a taste of the action for yourself. The facility offers opportunities for all ages and abilities to take lessons, join in with a drop-in game or take part in a public skating session. The Athletic and Ice Complex also features a restaurant, public fitness centre and a high intensity training centre for athletes. Many of Canada's top sporting professional train here year-round, so you never know who you might bump into!
Mini golf
Perfect for all ages, this professionally-designed outdoor course is a great way to enjoy time with the entire family and unwind after an action-packed day. The whole gang can play a round of 18 holes for under $30. The scenic surrounds are also a great draw, with the course boasting some of the best view of the Rockies to be had in Calgary. Meanwhile, the nearby Eighty Eight Lounge provides the perfect excuse to enjoy a bite after the game.
Children's activity area
Open to the public every weekend during the summer, this activity centre features several fun-filled options suitable for both younger and older kids. There's a 30 foot climbing wall and an elaborate series of climbing webs spanning a ten-foot tower. Best of all, is the thrilling Eurobungy trampoline experience that lets kids bounce, spin, flip and blow off steam to their heart's content.
Canada's Sports Hall of Fame
Take a breather from the adventure thrills and immerse yourself instead in the inspiring stories of past sporting heroes at Canada's Sports Hall of Fame. Dedicated to the celebration of Canadian sports history, this internationally-acclaimed facility boasts 12 galleries, 52 interactive exhibits and a truly impressive collection of over 100,000 artefacts spanning a vast array of sports. Get to know hundreds of the country's most famous athletes, marvel at sporting memorabilia from across the decades and enjoy a feature film highlighting Canada's proudest sport moments. Best of all, try your hand at sports like shadow boxing, baseball or 3D hockey through touch-screen lessons and 3D simulations.
Special events
Finally, Canada Olympic Park plays host to a variety of events during the summer months which are well worth planning a visit around. The WinSport Arena has a seating capacity of almost 4,000 people and there are numerous more locations for special events throughout the venue. It goes without saying that many noteworthy sporting events are held here, from endurance races to one-off matches and thrilling tournaments. Live music concerts, exhibitions and festivals are also regular occurrences, so keep your eyes peeled!
Find your perfect holiday
Talk to our friendly team
01 6649910
Call us 9am-7pm Mon-Fri / 9am-5pm Sat-Sun