Trip ideas for a three day stay in Vancouver
Read time: 5 mins
The largest city in Western Canada is also one of the most beautiful, in fact, Vancouver is considered one of the world's most stunning cities, surrounded by soaring snow-capped mountain peaks and a dense waterfront forest. But beauty isn't all it has to offer. Whether you're a food and wine connoisseur, a culture vulture or an outdoor adventurer, you'll find plenty to indulge in – and, we've got the ultimate trip ideas for a three-day stay in Vancouver to suit each travel type.
Food & wine lovers
The ultimate food and wine lovers' trip in Vancouver, starts with a stay at the Fairmont Hotel Vancouver, which is not only renowned for its exceptional service, luxurious rooms and elegance that gives it the feel of an English castle, but for its acclaimed restaurant. The glamorous Notch8 Restaurant & Bar was inspired by the romance of travel in the 1930's, named after a train's top speed and paying homage to the property's place in Canadian history as one of the iconic railway hotels built by the Canadian Pacific and Canadian National Railways. The menu offers dishes designed around items featured on menus from the hotel's early days. You'll find items like spruce roasted pheasant with forest mushrooms, and juicy prime rib with creamed kale, garlic mash and marrow roasted vegetables.
From here, you can easily explore the more than a dozen wineries of the Fraser Valley, just an hour's drive east of the city. Pack a picnic and enjoy a day of tasting and touring, starting at Lulu Island Winery, less than a half-hour's drive south of Vancouver in Richmond. The largest winery in this historic fishing town produces white and red ice wines as well as a range of red and white table wines, and fruit wines. Just minutes away is Richmond Nature Park, which makes for an ideal spot to picnic among the ponds and gardens bursting with blooms. Afterward, head to Langley to explore Vista D'Oro Farms, known for its unique and complex port-style wine and tasty homemade preserves. Nearby is Backyard Vineyards, which produces good value wines like the Blanc de Noir Bruit, a sparkling wine made from traditional methods and 100% pinot noir grapes.
You may want to spend an afternoon or even an entire day on Granville Island. A must for foodies, it offers the chance to sample the very best the city has to offer, with everything from small ethic restaurants to upscale waterfront eateries, and the highly popular public marketplace, the Granville Island Public Market. The market offers a diverse range of eats as well as meals that can be enjoyed outside along the water. As one of the most popular places for sourcing fresh, seasonal and local ingredients, the restaurants here tend to serve dishes inspired by the market's offerings, and, right situated right on the water, you can expect plenty of fresh seafood too – try the Vancouver Fish Company, known as the "premier hook-to-plate" seafood destination.
Cap off your three-day food and wine experience with one of the many excellent food tours, like the Gastown Tasting Tour which will allow you to dine your way through the historic Gastown district, acclaimed as the city's most vibrant restaurant scene, and the cocktail capital of Canada. It includes stops at a trendy brew pub, an elegant craft cocktail bar, a 'hidden gem' serving local farm charcuterie and cheeses with B.C. wines, and a high-end Chinese dining lounge.
Culture vultures
The Four Seasons Hotel Vancouver is at the centre of the city's cultural attractions, making it ideal for culture vultures with many of the top spots just steps away. To start your explorations, spend a day visiting the many offerings located right downtown. The Vancouver Art Gallery houses over 10,000 works of art, from historic masters to contemporary selections, including the most extensive collection of paintings by the renowned British Columbia artist Emily Carr. The UBC Museum of Anthropology is situated within a magnificent building overlooking the sea and the mountains on the University of British Columbia campus. It features impressive collections of Coast Salish and First Nations works of art and artifacts that can't be seen anywhere else. Watch for the Raven and the First Men Sculpture, which is depicted on the back of a $20 Canadian bill. Just steps from the Four Seasons, is the Bill Reid Gallery of Northwest Coast Art, which hosts sculptures and other works created by contemporary aboriginal artists from the northwest coast.
An excursion to Victoria, the province's capital on Vancouver Island, should also be on your itinerary, just a 90-minute ferry ride away. This picturesque city is jam-packed with museums and art galleries, and is home to one of the world's most spectacular display gardens. Be sure to visit the Royal BC Museum, one of Canada's top museums, and the only natural and human history museum in British Columbia. Focused on the land and people of British Columbia, it features around 750 thousand specimens and seven million artefacts in addition to having its own IMAX theatre. The Avenue Gallery is one of the Pacific Northwest's premiere boutique galleries, displaying works by painters, sculptors, glass artists and more, while the Morris Gallery is Victoria's largest, showcasing a wide array works by local artists. Save time for Butchart Gardens, which gave Victoria its nickname, "City of Gardens." It's filled with some 700 varieties of plants that are in bloom between March and October, and you can also enjoy sipping afternoon tea while taking in picturesque views of the garden.
There are a wealth of cultural attractions just outside downtown Vancouver as well, more than enough to spend a day exploring. At the Burnaby Village Museum in nearby Burnaby, you can experience what life was like nearly a century ago in the region, with costumed townspeople and heritage buildings recreating a traditional community from the 1920's. Set up like an open-air museum, admission to the site is free, and visitors can hop aboard a restored electric street car, wander through historic homes, chat with a blacksmith at the blacksmith shop, as well as visit an old school and a general store.
Delve into the city's Chinese culture with a visit to Chinatown, the second largest in North America. It's also home to the biggest classical Chinese garden outside of China itself. Dine on dim sum for lunch, take a guide walking tour of the neighbourhood, check out the interesting herbal shops and stroll through the beautiful garden. In Richmond, just south of Vancouver, visit the International Buddhist Temple, known as one of the most extraordinary examples of traditional Chinese architecture in the country. If you're here in June, you can also attend the Dragon Boat Festival at False Creek, which features live entertainment and traditional Chinese longboat races. Cap off your Vancouver cultural experience by catching a play at the Vancouver Playhouse Theatre Company which premieres original Canadian plays, less than a 10-minute walk from the Four Seasons Hotel.
Outdoor adventurers
Outdoor adventurers will find Vancouver and the surrounding area to be a true outdoor paradise. A stay at the Fairmont Waterfront is ideal – not only does it offer breathtaking views from every window, it's within walking distance of Stanley Park, which offers a host of activities right in the city.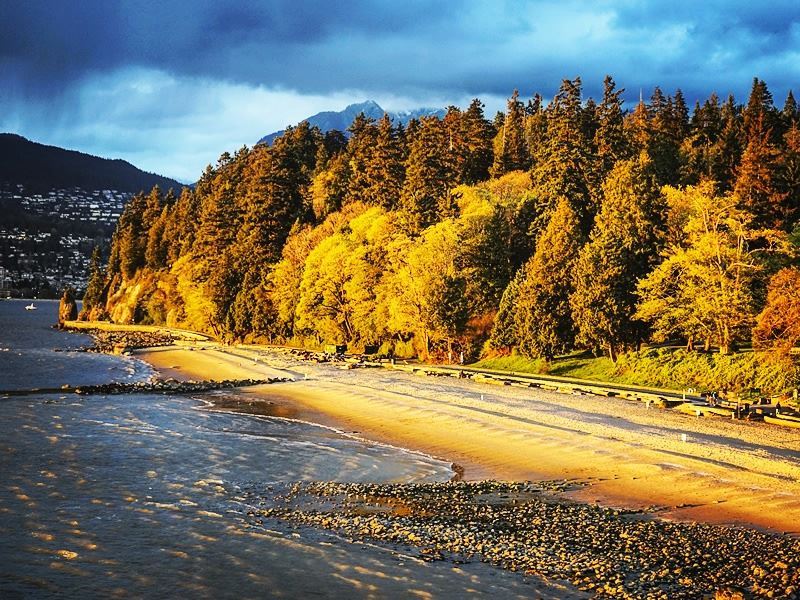 Begin by spending a day in this 1,000-acre park – you can walk or bike the more than five-mile-long seawall that follows the waterfront to see many of its highlights and soak up jaw-dropping views that include soaring mountains, the downtown Vancouver skyline, and Lions Gate Bridge. Watch for the "Girl in a Wetsuit" sculpture and other landmarks along the way. There are nearly 20 miles of forest trails for exploring the interior of the park, as well as a heated outdoor pool for swimming. In between activities, you can stop at the teahouse for a cup of tea while taking in the uninterrupted views of English Bay, or lunch on the sunny patio at the Waterfall Café.
Grouse Mountain and Capilano Suspension Bridge Park are just minutes from each other, and less than a 20-minute drive from downtown Vancouver, and offer the perfect way to spend a day at play. Grouse Mountain towers over North Vancouver, offering awe-inspiring views and a variety of outdoor adventures, including ziplines, and the locally famous Grouse Grind, a nearly two-mile trail nicknamed 'Mother Nature's Stairmaster." Head to lush Capilano Suspension Bridge Park afterward to take a heart-pounding walk across the bridge that dangles high above the rushing Capilano River, and meander along the Cliffwalk, which follows the edge of a canyon along a granite precipice through a series of platforms, bridges and stairs. If you have more time, the Capilano Salmon Hatchery nearby also offers some incredibly scenic trails for hiking, a picnic area and the opportunity to marvel at the vibrant red Coho salmon that jump and fight their way upstream.
Whistler, the site of many of 2010's Winter Olympic Games, is just a little over an hour-and-a-half's drive from Vancouver and offers a host of fun outdoor adventure, from hiking and mountain biking to golfing and horse riding. Here you can even ride the longest zipline in North America: the Sasquatch Zipline. The incredible "hairy beast," as its often referred to, spans an impressive 7,000 feet, or 1.3 miles, in length, bridging two mountains. You'll be launched from Blackcomb Mountain, whizzing across the valley to Whistler Mountain, flying as high as 600 feet off the ground. If you're up for a hike, there are many that are easily accessible right from Whistler Village. Don't miss the short walk to Brandywine Falls – just 30 minutes round-trip, it will bring you to a platform that overlooks this gorgeous waterfall that plunges nearly 230 feet into a pool below.
Find your perfect holiday
Talk to our friendly team
01 6649910
Call us 9am-7pm Mon-Fri / 9am-5pm Sat-Sun