The gorgeous waterfront city of Vancouver is a place we'd all like to spend a lot of time in. To fully experience Vancouver and appreciate all it has to offer we recommend staying for at least three nights. However, sometimes you just have 24 hours to spare … maybe you'll be boarding that bucket-list cruise to Alaska, or you could be breaking a long flight to the other side of the world. If your time is short, then here are our top suggestions for the best 24 hours in Vanc.

Your 24 hours might start at any time, but let's be logical and begin at breakfast, and with a myriad options to choose from, we're going to send you over to Granville Island. Take the ferry across False Creek to Granville Island and whilst the market officially opens at 9am you'll still find some great places to enjoy bagels, donuts, muffins and whatever baked goods take you fancy, washed down by some artisan coffee. Don't overdo it as you're going to be having lunch soon. Enjoy a wander around this great market, filled with fabulous food, arts and First Nations craftwork.
Then hop in a cab for the short drive to Stanley Park and decide how you want to explore this beautiful place. You can take advantage of the park's hop-on/hop-off shuttle, or board the Miniature Train which takes you on a short journey into the forest, around a lake, through tunnels and over trestles. There are also horse-drawn buggy's which will give you a guided tour of the park's history. Or, depending on your jet lag, you might want to rent a bicycle or rollerblades to explore the 5.5 mile seawall that encircles the park, or stroll along one of the trails which take you through the park.

There's a Brewpub in the park where you can relax over some Canadian comfort food. Or for lunch with a view, head over to the Lift Bar Grill View where you can look over the harbour.
Spend the first part of the afternoon in downtown, and visit the Vancouver Art Gallery to see fabulous work by local artists and touring exhibitions from around the world. Then perhaps enjoy a little light shopping on Robson Street.

For drinks and dinner we suggest you make a bee-line for Vancouver's oldest neighbourhood – Gastown. Stroll the cobblestone streets, take a selfie by the worlds first steam clock, and then enjoy a bite to eat and a restorative drink at the Steamworks Brewing Co or at Water St. Café, depending on your tastes and budget.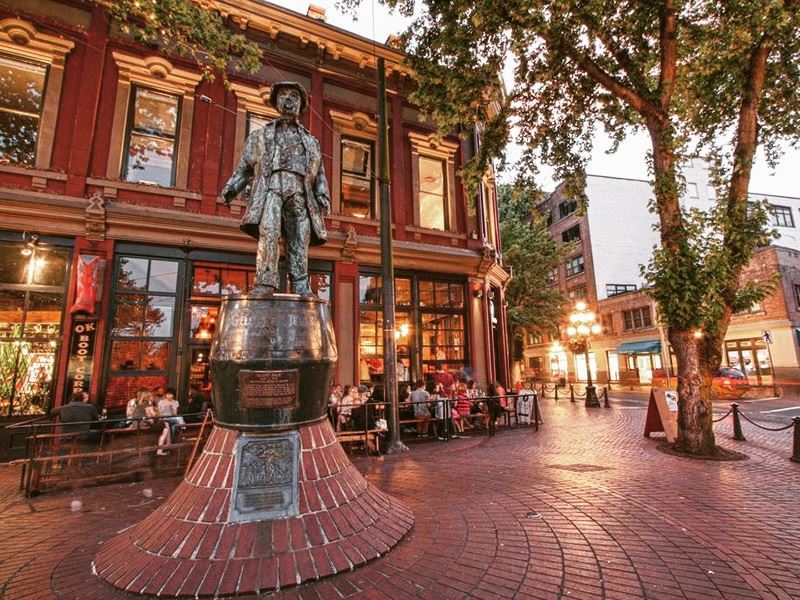 It will now definitely be time for bed, but if you're too wired to sleep then Granville Street is the place for you. Take your pick of the sports bars, karaoke joints and night clubs, before it's time to say au revoir to Vancouver (for now).
Find your perfect holiday
Talk to our friendly team
01 6649910
Call us 9am-7pm Mon-Fri / 9am-5pm Sat-Sun